SSS 1961 Cadillac Fleetwood Sixty Special

A splendid tinplate Cadillac toy by SSS of Tokyo, Japan, manufactured and marketed in 1961 through 1963.

It is a large toy at 16", and it is HEAVY. Pretty substantial thick steel body with separate fins, not too many chrome details other than the mandatory grille, rear bumper and windshield and rear window surrounds. The unusual features are an opening hood and trunk, the hood covering a tinplate attempt to an engine, with a red plastic fan and air filter.

The toy is quite impressive, while not rare. It also exists in black, and a two-tone olive green with yellow roof, a strange color combination. This pale yellow color is most attractive. Came with the box, with a sticker that says $3.25. Those were the days...
| | | |
| --- | --- | --- |
| | | It was acquired from a 60-year old man who said that this toy was given to him as a present when he was nine, but he never played with it because he thought it was beautiful and did not want to damage it. |
| | | |
| --- | --- | --- |
| | | Compared to a 1/43-scale model of the same car (that one a really rare toy by Taiseiya, also a Japanese company) , shows its size! |

The tin bottom has hardly any scratches, so the seller might be telling the truth and indeed, never played with it!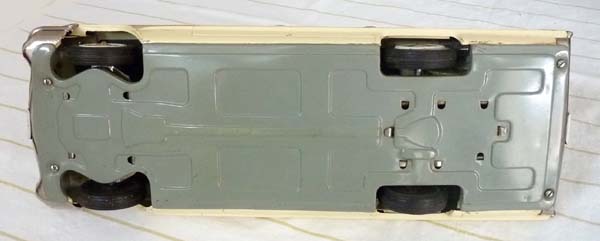 | | | |
| --- | --- | --- |
| | | The box is in pretty nice shape but one end has some damage. |